Iwona Majewska
M.Sc.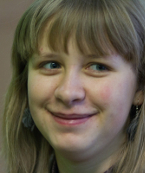 E-mail
Phone
+48 22 5526378
Room
502
Address
L. Pasteura 1 St.
02-093 Warsaw
Poland
since 2016 — Ph.D. Studies in Quantum Chemistry at the University of Warsaw
2016 — M.Sc. in Chemistry (with honours), Faculty of Chemistry, University of Warsaw
2014 — B.Sc. in Mathematics, Faculty of Mathematics, Informatics and Mechanics, University of Warsaw
2011-2016 — Inter-faculty Individual Studies in Mathematics and Natural Science (Chemistry, Mathematics, Physics), University of Warsaw
Photodissociation of ultracold molecules.
M. McDonald, I. Majewska, C. -H. Lee, S. S. Kondov, B. H. McGuyer, R. Moszynski and T. Zelevinsky
Control of Ultracold Photodissociation with Magnetic Fields
Phys. Rev. Lett. 120, 033201 (2018)
M. McDonald, B. H. McGuyer, F. Apfelbeck, C. -H. Lee, I. Majewska, R. Moszynski and T. Zelevinsky
Photodissociation of ultracold diatomic strontium molecules with quantum state control
Nature 534, 122 (2016)